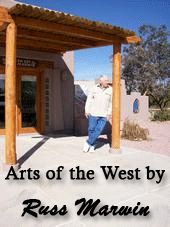 ABOUT THE ARTIST.....Russ Marwin's talent as an artist flourished in the late 60′s.  After 23 years in law enforcement and having raised 9 children, his retirement is now focused on his passion – painting at his Superstition Art  Studio in Gold Canyon Arizona.  
For over 25 years Russ has been on display at numerous galleries.  Troy's Heritage Gallery in Scottsdale, AZ; Work of Art in Scottsdale, AZ; Gallery George in Gold Canyon, AZ; Windrush Gallery in Sedona, AZ; Files Gallery in Big Bear, CA; Saddleback Gallery in Irvine, CA; Broiler Gallery in Amarillo, TX; La Paloma Gallery in Tao's, New Mexico; Paul Addi Gallery in Reno, NV; Frame of Mind Gallery in Coeur D'Alene, ID; Collector's Gallery in Sandpoint, ID; Helen Spencer Schlie Gallery in Apache Junction, AZ to name a few.
Russ Marwin has also been on display at the following invitational  Western Art shows:  Ridpath Invitational Art Show in Spokane, WA; Death Valley Furnace in Creek, CA; National Western Art Show in Ceres, CA; Blackfoot Valley  Art Auction in Ellensburg, WA; Western Art Show in Lincoln, MT.  Collectors of Russ' work extend to Europe, Germany, Spain and Saudi Arabia.
Russ and his wife, Maranna, sponsored and started the Mule days Art Show in Bishop, CA where he owned Indian Creek Gallery.  He has moved his Hayden View Studio to Arizona where he currently resides.  At the present time he is branching out to painting murals and designing waterfalls for pools and specialized landscapes.  Russ Marwin paintings are all original and never duplicated.  To purchase a Russ Marwin painting call or email Russ or Maranna.
CONTACT:
9668 E. Sleepy Hollow Trail